Junama MOTO STYLE
:
2016 Junama SPORT / MOTO STYLE
Innovative, classic stroller !
Classic rediscovered !
Designers playing with the conventions created a classic model with an innovative design.
The anode rims and unique applications on stroller's gondola give it elegance and styling adequate for the twenty first century.
All colors are made of luxurious eco-leather, which adds the stylish look.
2 i 1 barnevogn
3 i 1 pakke med bilsete i matchende design
4 i 1 pakke med bilsete og Isofix bilbase
2 i 1 prispakke inkludert :
- Barnevognen aluminiumsramme
- Gondol / Dypbag + footmuff
- Sportsvogn setedel + footmuff
- Bag / stelleveske med stelleteppe
- Myk insert / madrass til sportsvognen
- Romslig handlekurv / ryggsekk med zip
- Regntrekk
- Myggnett
- Flaskeholder
3 i 1 pakke
+ Bilsete i matchende design / farge + adapter
4 i 1 pakke
+ Bilsete i matchende design / farge + adapter + Isofix Base System
All fabrics has authorisation of Oeko-Tex Standard 100.
NB! Ta spørre oss om farge tilgjengeligheten og leveringstid.
Funksjoner:
1. Stabil og solid, men lett aluminiumsramme
2. Avansert / moderne fjærer suspensjon - innovativ amortisering system
3. Fire pumpethjul / dimensj. 12''
4. Romslig handlekurven / ryggsekk med zipper
5. Innovativt "click" system for å knytte gondolen / sportsvogn sete / bilsete
6. Sentralbrems
7. Funksjonell og elegant bag for små elementer med stellematte i matchende farge (med skulderrem og rask monteringssystemet på ramme)
8. Fire posisjoner nakkestøtte i gondolen med full liggende posisjon
9. Mykt polstring / fyll i madrass
10. Høyde justerbart håndtak laget av øko - skinn
11. Stor komfortabel og praktisk sportsvogn setedel
12. 5-punkts sikkerhetsbelter
13. Muligheten til å montere barnevogn / sportsvogn front eller bakover
14. To fotposer - gondol og sportsvogn setedel
15. Cotton lining og ekstra terry madrass på gondol
16. Multi - trinns høydejustering
17. Regntrekk (ventilert) som dekker hele overflaten av gondolen
18. Håndtak på gondol
19. Justerbar fotstøtte i sportsvogn sete
20. Justerbart håndtak dekket med eco lær
21. Reflekterende punkter i gondolen, barnevognen og posen
22. Ekstern justering av nakkestøtte i gondolen
23. Ryggstøtte kan justeres til liggende posisjon pa sportsvogn sete
24. Forskjelige farger - se nedenfor
Junama by Tako. This is a higher-end stroller line, with a completely new frame design. It is aimed for the most discerning contemporary parent, with a robust and durable yet very stylish stroller. It has been equipped with a very soft suspension system, allowing you to rock the baby to sleep, just like the old-style. This stroller is ready for the most difficult terrain, and every walk will be a pleasure for you and your baby.
Luxurious eco-leather will make sure your stroller does not go unnoticed.
The package comes complete with a bassinet, toddler seat, a matching diaper bag, additional bag on the shopping basket, mosquito net and rain cover. You can easily convert the stroller into a travel system, with optional car seat adapters that you can purchase separately.
The luxurious fabrics are Oeko-Tex 100 Standard Certified to bring you piece of mind about your child's safety from harmful chemicals.
FEATURES

Durable aluminum frame, on 4 air tires (12"), all wheels are fixed (no swivel), soft and comfortable suspension on spring arms, adjustable handle covered in eco-leather, central-wire brake. Optional universal or Maxi-Cosi car seat adapters attach to the stroller frame.

Bassinet has a new shape, it is suitable from birth to around 5-8 months, adjustable headrest, cotton interior lining, quiet canopy folding system, removable cover, soft mattress. Can be mounted forward or backward facing.

Seat is suitable from around 4-6 months to about 3-4 years (15kg/33lb), adjustable backrest, adjustable separate footrest, flat recline position, folding and removable canopy, boot cover, 5-point harness. Can be mounted forward or backward facing.

Stroller comes with a wired shopping basket underneath, with an additional bag for smaller items.
EKSTRA OPSJON:
Ta velge alternativet når du kjøper !
- bilsete i matchende Moto Style farge / design + adapter (+ kr 1.500,-)
- bilsete i matchende Moto Style farge / design + adapter + ISOFIX base (+ kr 3.000,-)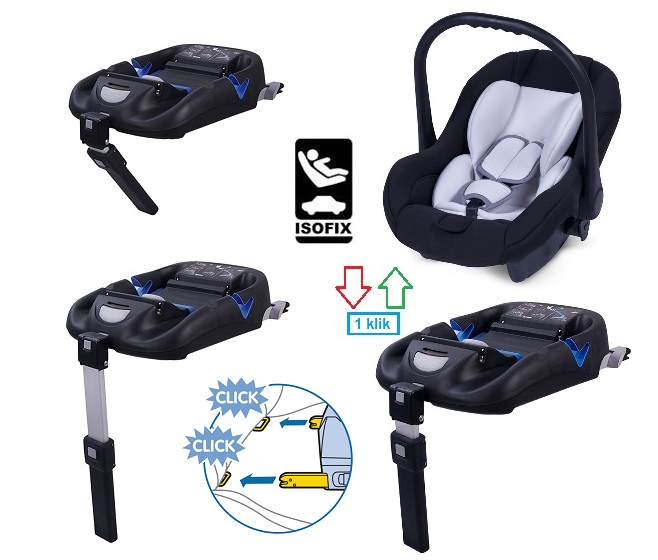 Tako / Carlo car seat is dedicated to babies that weight from 0 to 10 kg. Three-point adjustable harness with covers ensure safety, harness is clipped together with a central lock, special pad for the youngest children is included. Holder front position serves as an extra safety element during the journey. It can be use as a mini cradle.

Car seat is equipped with canopy that keeps baby out of sun, wind, rain, and with boot cover. Pad can be machine washed.
Car seat has European Safety Cerrtification ECE R 44/04.
BARNEVOGN ER LAGET AV ECO SKINN / LEATHERETTE og TOPKVALITET TEKSTIL (Oeko-Tex Standard 100).
Junama SPORT ha en europeisk ECE R44/04 sikkerhetssertifikat.
Garanti 12 mnd.
Leveringstid 1-3 uker. Se mer på : http://nordshop.no/side/levering
Tako (owner of Junama brand) is a Polish company producing strollers and items for children. More than 20 years of experience allows you to create products safe and comfortable. Tako is well- known brand in the world thanks to innovation, original design and quality.
Junama brand is an exceptional and unique exclusive products targeted to the unique clients who appreciate good taste and the latest technology.
Junama is characterized by its sophisticated and thoughtful solutions that facilitate the use of the stroller.